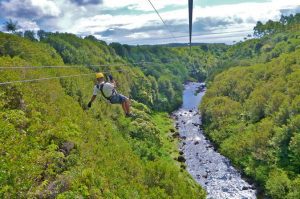 Imagine soaring over the Kilauea Volcano. Ziplining through tropical jungle and over multiple waterfalls. This tour covers everything that makes Hawai`i Island unique.
See Mauna Loa and Mauna Kea, the two largest volcanoes of Hawai`i Island, on the way to famous Rainbow Falls and quaint Hilo-town, the site of two devastating tsunamis. Includes a brief stop at the KapohoKine Adventures store to top off on provisions before heading to your Zipline Through Paradise!
Covering nearly two miles of gorgeous tropical river gorges, our 8-line zip course is fun for the whole family. View multiple different waterfalls while soaring over 160 feet above them. Our certified staff will guide you over one of the longest lines on Hawaii Island at more than 2,400 feet in length, and also the only all side-by-side dual-track zipline on Hawaii!
Enjoy a picnic deli style lunch before you head to your next adventure and board your comfortable; air conditioned aircraft. As you head out towards the active Kilauea volcano, lush tropical rainforest gives way to stark black lava flows as you approach the volcano.
Look for surface flows and lava as your pilot safely navigates his way through columns of steam and smoke rising from the volcanic landscape. Circle back and head north past Hilo. This is waterfall country, and you will see some of the great ones from the air including Rainbow Falls before heading to Hawaii Volcanoes National Park!