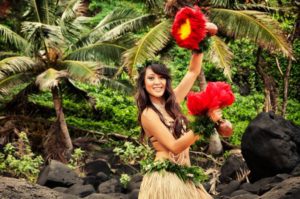 From the lei welcome and imu (underground oven) ceremony to the bountiful Hawaiian buffet, you'll experience an evening of traditional Polynesian fun on Maui at the Kaanapali Sunset Maui Luau.
After dining on an all-you-can-eat Hawaiian luau buffet at the Kaanapali Sunset Luau, you'll experience an exciting and colorful presentation of Polynesian dances from Hawaii, Tahiti, Fiji, Rarotonga, New Zealand and Samoa, set to pulsating, syncopated drum beats.
There's the celebratory festival dances of Tahiti, the fierce warrior dances of Fiji, the exotic hypnotizing dances of the Tuamotus, the legendary dance of the Hawaiian princess Kalua and the intriguing fire-knife dance of Samoa.