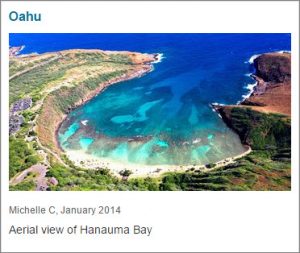 Your knowledgeable pilot will select the optimal route based on weather conditions, ensuring all the "must see" attractions are included in your tour. Honolulu Helicopter Tours take you flying over Keehi Lagoon, historic Honolulu Harbor, Aloha Tower, Ala Moana Beach Park, Magic Island and world-famous Waikiki Beach!
On the east end of the island lies Hanauma Bay, the remnants of a volcano crater that is now a marine sanctuary and popular snorkel location. Oahu Helicopter Tours reveal aerial views of the Halona Blowhole, Sandy Beach, Makapuu Point and its lighthouse, followed by the colorful Sea Life Park.
The powdery white sands of Waimanalo Beach provide a scenic backdrop as you continue on to the gorgeous coral formations of Kaeohe Bay. View the Chinaman's Hat before heading to "Jurassic Park" valley, where a dozen major motion pictures have been filmed.
The highlight of your Oahu Helicopter tours is a flyover Sacred Falls, a shear waterfall with a 1,000-foot (300-meter) drop. The central plain reveals the world's largest agricultural maze, housed at the Dole Pineapple Plantation.
Your 45-minute Oahu Helicopter Tour concludes with a panoramic view of Pearl Harbor and the Arizona Memorial.