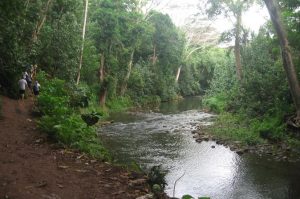 A professional tour guide will take you paddling through some of Kauai's most sacred waterways and hiking through some of the most beautiful lush tropical forest Kauai has to offer sharing myths, legends and some Hawaiian history all the way to Secret Falls.
Highlights
Choice of morning or afternoon departure
All necessary equipment included
You will meet your tour guide at either 7 am or 12:15 pm at the designated meeting point. You will then drive for a short ride to the Wailua marina boat ramp.
At the marina, your tour guide will give a short lesson in kayaking and rules of the river. Then your guide will load everyone into the kayaks and your journey begins up the river for 1.5 miles to the north fork.
Once there, you will park your kayaks. You will then begin hiking for about 45 minutes at a moderate incline to secret falls. Along the way your guide will share myths and legends of the beautiful Wailua River valley.
At secret falls you will have time to enjoy the water and beautiful scenery. Then, on the way back, you will have 45 minutes of hiking back and 1.5 miles of kayaking to get back to the Wailua marina.