This site contains links to a ShareASale affiliate website, and we receive an affiliate commission for any purchases made by you from those links to their website. This helps us to have a second cup of Kona Coffee (so Ono) in the morning. Mahalo Nui Loa
To learn more or to book now, left click on the image below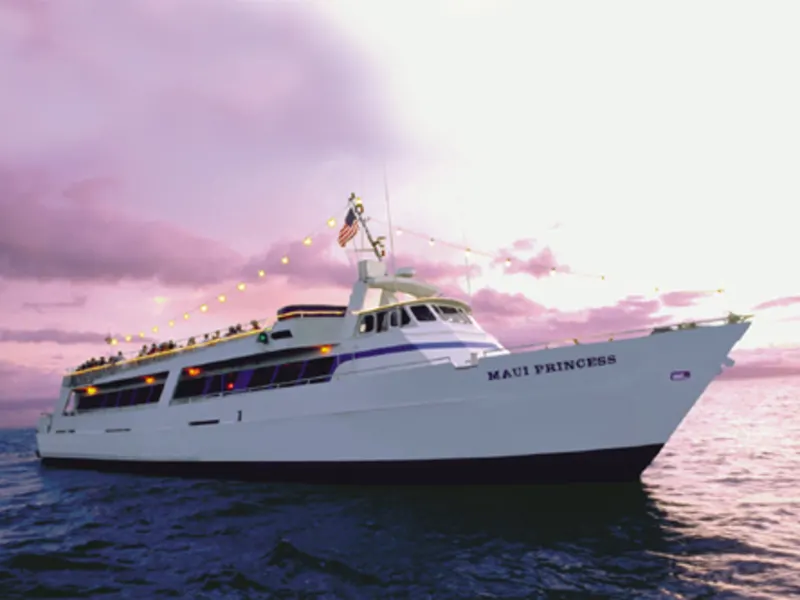 The best Maui sunset dinner cruise is a night of fun and excitement perfect for couples wanting a romantic evening on the ocean, groups of families and friends, and more! This delicious dinner cruise offers a gourmet feast of island cuisine. The night concludes with live music and dancing under the stars, with the beautiful Maui coastline in the background. A Maui dinner cruise is the best way to relax and unwind in Lahaina, and you won't want to miss this chance to cruise on board the Maui Princess!
Boat Information:
Name:
Maui Princess
Size:
120 ft. Luxury Touring Yacht
Capacity:
149 Passengers
Safety:
Lifeguard-certified crew members always on board
Accessibility:
The vessel is not wheelchair accessible.
Amenities:
The Maui Princess is Maui's largest and most comfortable touring yacht, designed for maximum passenger comfort, with restrooms on-board, an air conditioned main cabin, spacious open air observation deck, cocktail lounge and snack bar.
The Menu:
Salad & Side Dishes: Fresh Green Salad with Papaya Seed Dressing, Dinner Rolls, Roasted Potatoes & Glazed Carrots.
Entree Selection (choose one): 12 oz. cut Prime Rib (carved on-board) with Au Jus and Horseradish, Roasted Chicken with Mushrooms & Garlic Soy Sauce, Macadamia Nut Crusted Mahi Mahi Fillet With Buerre Blanc Sauce, Vegetarian Dinner: Veggie Patty served over Steamed Vegetables (Broccoli, Cauliflower & Carrots) with a Marinara Sauce.
Dessert: Cheesecake with Seasonal Fruit Glaze
Beverages: Three (3) Alcoholic Beverages (Cocktails, Beer and Wine available) and Unlimited Soft Drinks & Juices.
Note: Children (3yrs and under) are free but no dinner is provided. Dinner Upgrade is available for purchase for a fee of USD 16.05 (subject to change). Advance notice is required.