This site contains links to a ShareASale affiliate website, and we receive an affiliate commission for any purchases made by you from those links to their website. This helps us to have a second cup of Kona Coffee (so Ono) in the morning. Mahalo Nui Loa
To learn more or to book now, left click on the image below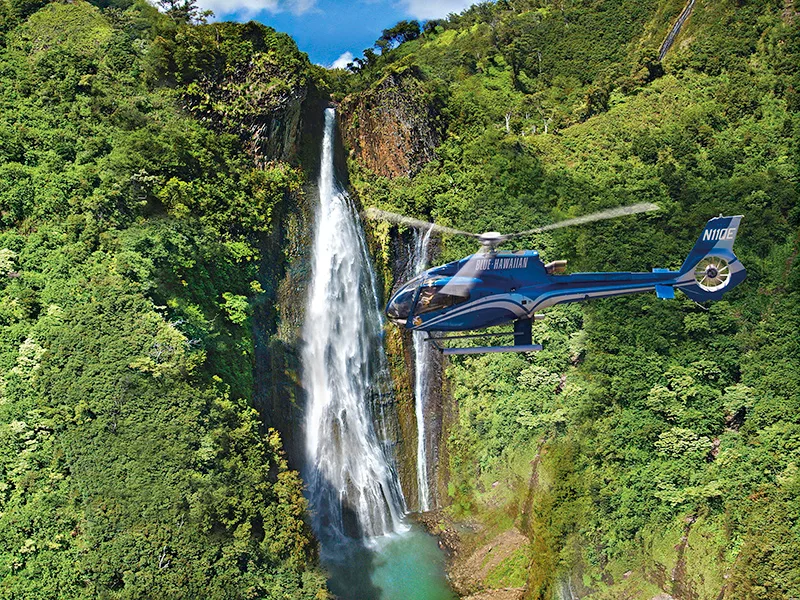 Begin your journey with a pass through Hanapepe Valley, continuing on to the gorgeous falls of Manawaiopuna, made famous for their appearance in the film Jurassic Park. Your expert pilot and guide will show you awe-inspiring natural formations along the Na Pali Coast and bring the aircraft into the folds of Waimea Canyon, rightly called Kauai's "Grand Canyon of the Pacific." Weather permitting, you can also swoop through the ancient crater of Mt. Waialeale, the wettest spot on Earth. This comprehensive tour gives you the full Kauai experience, all from the comfort of an Eco-Star helicopter.
---
Sights include:
Hanapepe Valley
Manawaiapuna Waterfall ("Jurassic Park Falls")
Olokele Canyon
Waimea Canyon ("Grand Canyon of the Pacific")
Na Pali Coast & 3,000-foot sea cliffs
Bali Hai Cliffs (Makana Mountain)
Hanalei Bay
Princeville Resort area
Kauai North Shore
Mt. Waialeale
---
Eco-Star Helicopter Information:
Blue Hawaiian's fleet consists of the best touring helicopters in the industry featuring state-of-the-art Airbus Eco-Star helicopters. While cutting flight noise by around 50% over the isle's delicate ecologies, the Eco-Star also pampers you in serene comfort and opens up wide-screen views never before seen from a helicopter.
Airline-standard, Terrain Awareness 'Warning System
Bose Aviation-grade, Electronic Noise-Cancelling Headsets
Microphones for guests with 2-way communication with pilot
Advanced 4-camera in-flight video system with pilot narration and cinematic music choreographed to scenery
Custom upgraded VIP interior
Flotation system for extended over-water flights
All forward-facing seats with 180-degree views & "theater-style" platform in rear seating
Live tour commentary available in English