This site contains links to a ShareASale affiliate website, and we receive an affiliate commission for any purchases made by you from those links to their website. This helps us to have a second cup of Kona Coffee (so Ono) in the morning. Mahalo Nui Loa
To learn more or to book now, left click on the image below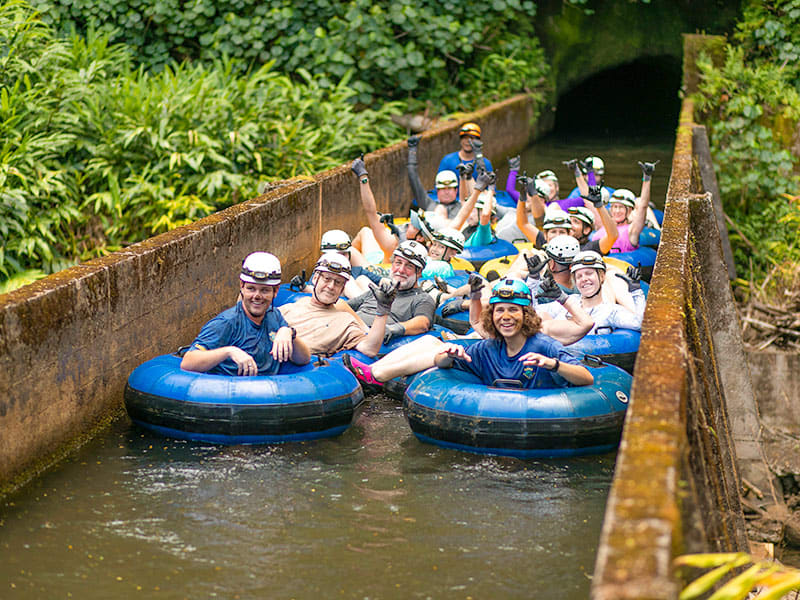 This is your chance to experience one of Kauai's most popular things to do: go tubing in Hawaii! This family-friendly Kauai activity is often sold out weeks in advance, and with so many positive reviews, it is no wonder that mountain tubing is the Kauai activity for all ages.
This exciting adventure begins with a ride on an off-road vehicle into a lush rainforest before beginning your unforgettable mountain tubing experience. Your guides will help you onto your comfy inner tube before you set out on Hawaii's natural lazy river. Float through open ditches, hand-carved tunnels, and flowing flumes that were crafted by plantation workers back in 1870. The waterway stretches for miles and is the perfect mix of a lazy river, float trip, and log ride! Kick up your feet and enjoy this family-friendly activity, as you experience the best Kauai eco-adventure in Hawaii!
---
Fun Facts About Kauai Mountain Tubing!
The sugar cane plantation is on private land and the only way to access the area is on this tour.
The longest tunnel is a full mile in length and can take around 20 minutes to get through
The water in the irrigation ditches is some of the cleanest water on the island and comes down from Mount Waialeale, the wettest spot on Earth
A photographer will be on hand for the majority of the tour, so be sure to check out the professional photos upon your return
At the end of your tour, you will have lunch at a swimming hole that is fed by a small waterfall
For the feline fans, keep your eye out for Mochi, the resident swimming hole cat!