This site contains links to a ShareASale affiliate website, and we receive an affiliate commission for any purchases made by you from those links to their website. This helps us to have a second cup of Kona Coffee (so Ono) in the morning. Mahalo Nui Loa
To learn more or to book now, left click on the image below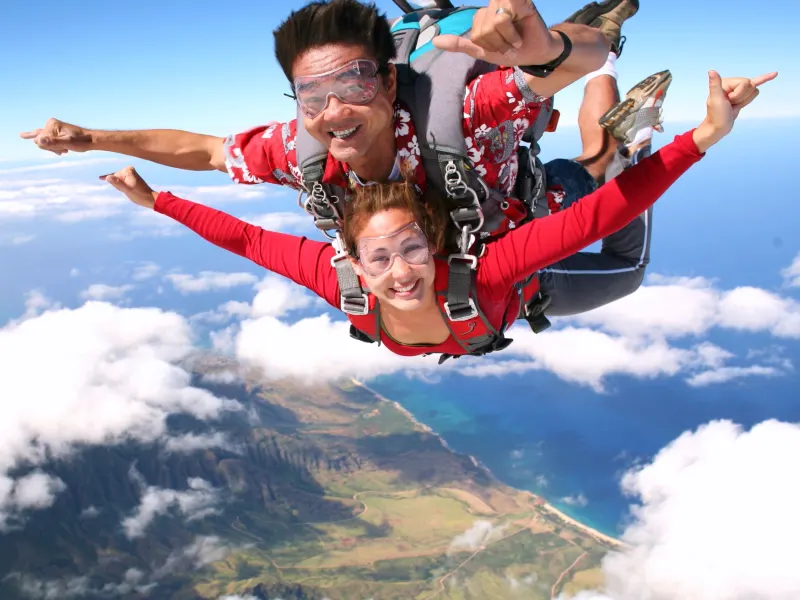 Take part in an unforgettable tandem skydive in Hawaii with the professionals at Pacific Skydiving Center! This is your chance to go skydiving with pick up and transportation from Waikiki hotels! Head to Dillingham Airfield to climb aboard a twin-engine Beechcraft King Air 100 and fly to an altitude between 7,000 and 14,000 feet. Once you're at the desired altitude, you'll jump out of the plane and begin your descent! Dive into Oahu sky and free fall at 120 mph (190 kmph) with a panorama of the North Shore of Oahu below you. If you're seeking thrills during your Hawaii vacations, you can't miss this! Take part in one of the most exciting things to do in Oahu Hawaii: North Shore skydiving!Photo & Video Package Information
Photos: $105 (Regular) / $135 (Ultimate / Helicopter)
Video: $140 (Regular) / $170 (Ultimate / Helicopter)
Photo & Video Combo: $199 (Regular) / $230 (Ultimate / Helicopter)
Handicam Photo (GoPro on your instructor's wrist): $88 (Regular) / $98 (Ultimate / Helicopter)
Handicam Video (GoPro on your instructor's wrist): $120 (Regular) / $140 (Ultimate / Helicopter)
Handicam Photo & Video Combo (GoPro on your instructor's wrist): $170 (Regular) / $190 (Ultimate / Helicopter)
*Prices are subject to change. You can request and pay for your photo and video package upon check-in.
---
Know Before You Go
The experience can take 1-4 hour process once the paperwork is submitted.
You must be 18 years of age with a valid ID.
240lbs/108kg maximum weight. Additional fees apply to those over 200lbs.
You must watch the training video and sign the Tandem Parachute Jumper Agreement.
For safety reasons no personal cameras in flight.
No scuba diving 24 hours prior to skydiving.
Altitude is guaranteed with appropriate conditions only. Subject to: Unexpected changes in tropical island weather and strict FAA regulations (airport closures, flying restrictions, etc.)
If the Ultimate Tandem(14,000ft) cannot be reached you will only pay for the Regular Tandem(9,000ft). For prepaid customers you get a partial refund, if the jump is canceled you will get a full refund.
You must be medically capable and physically fit for skydiving. Call for questions. You must be able to step up on top of a picnic table without the use of hands, turn around, be able to jump high off of it, then be capable of taking the impact of landing and run it out. We may ask you to verify physical fitness at our location.