This site contains links to a ShareASale affiliate website, and we receive an affiliate commission for any purchases made by you from those links to their website. This helps us to have a second cup of Kona Coffee (so Ono) in the morning. Mahalo Nui Loa
To learn more or to book now, left click on the image below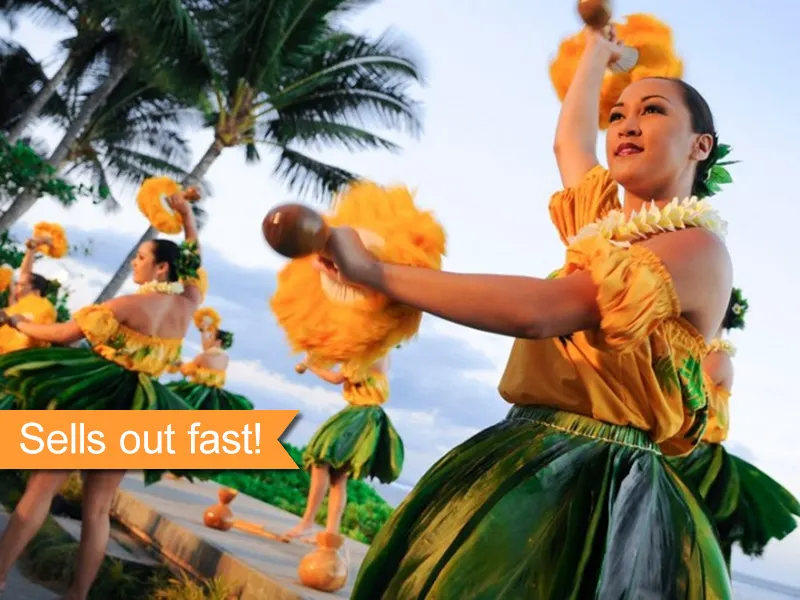 The creators of the popular "Old Lahaina Luau," have brought an evening of mouthwatering cuisine and unforgettable entertainment to the shores of Lahaina with the Feast at Lele. This popular Maui evening dinner and show has been sharing the beauty of Polynesian culture to guests from around the world, and there is no better experience to be had for those looking for things to do in Maui. As you soak in the sight of a Hawaiian sunset at your private table, get ready to go on a journey across Polynesia with a sit-down five-course dinner of expertly crafted regional dishes showcasing cuisine from the islands of Hawaii, Aotearoa (New Zealand), Tahiti, and Samoa paired with performances featuring music and dance of these amazing islands.
---
Why do travelers choose this tour?
The Feast at Lele is the most highly-rated luau featuring fine dining on Maui with a five-course gourmet Polynesian menu that is served to you at your own private table. Unlike other luaus which feature buffets, each dish is handcrafted on-site by James McDonald, Executive Chef and owner of Pacific'o Restaurant, and a group of amazing local chefs.
You will be taken on a culinary and musical journey through Polynesia with traditional island performances accompanying each course from Hawaii, Aotearoa (New Zealand), Tahiti, and Samoa. As you take a bite of traditionally prepared island cuisine, watch as the stage comes to life with vibrant dancing, music, and song.
Since each table features private seating, the Feast at Lele is one of Maui's most romantic and intimate experiences, and is perfect for newlyweds, couples celebrating anniversaries, or simply as a way of sharing aloha with a loved one.
Even if you have been to a luau before, the Feast at Lele offers a completely new and unique Polynesian event unlike any other in all of Hawaii. This award-winning luau is a "must do" for anyone visiting Maui, and this exceptional and highly-touted evening dinner and show is perfect for both first timers and returning luau goers.
Whereas most luaus on Maui have an average of 550 guests or more, the Feast at Lele only allows between 250 to 300 guests to maintain an uncrowded atmosphere with a smaller venue that ensures that each table has a direct and unobstructed view of the performance area.
Local expert tips
This activity is incredibly popular, and is normally sold out two to three months in advance. We highly suggest booking as soon as possible so you do not miss out on this incredible opportunity.
Recommend attire: Resort casual or Aloha wear, with a light jacket or sweater. Flat shoes are a better option than high heeled shoes since the grounds are uneven with sand.
The show and setting are appropriate for everyone from honeymooning couples to groups of families and friends, but it is not recommended for young children as there are no pre-luau activities for them to enjoy.
Parties of 10 or more are subject to an automatic gratuity, and a 16% service charge will be added.
How to get there?
The Feast at Lele is located beachside in the heart of Lahaina. Paid parking is located in the parking lot across the street from 505 Front Street, and parking validation is not provided. Limited street parking is also available, but not recommended.
Unique History & Culture
History of the Feast at Lele: The name Feast at Lele comes from the Hawaiian word Lele, the ancient Hawaiian name for Lahaina, and the area where the luau is held was once the location where the royal family would hold their own festivities and entertain guests. In keeping with these traditions, the creators of the Feast at Lele continue to hold true to the authenticity of Polynesian celebrations and traditions.
History of Polynesia & Hawaii: Although Hawaii has become a popular destination for visitors from all across the globe, it was first populated by Polynesian explorers from the Marquesas Islands, located 2,000 miles away, over a thousand years ago. These highly skilled navigators crossed the Pacific Ocean and with them brought a culture that soon evolved into something that is now uniquely Hawaiian.
All along the Polynesia, seafaring travelers also established settlements in areas now known as New Zealand, Tahiti, and Samoa, and although each of the locations has its own language and culture, there is an underlying thread that connects them all together with similarities in cuisine, music, and more.