This site contains links to a ShareASale affiliate website, and we receive an affiliate commission for any purchases made by you from those links to their website. This helps us to have a second cup of Kona Coffee (so Ono) in the morning. Mahalo Nui Loa
To learn more or to book now, left click on the image below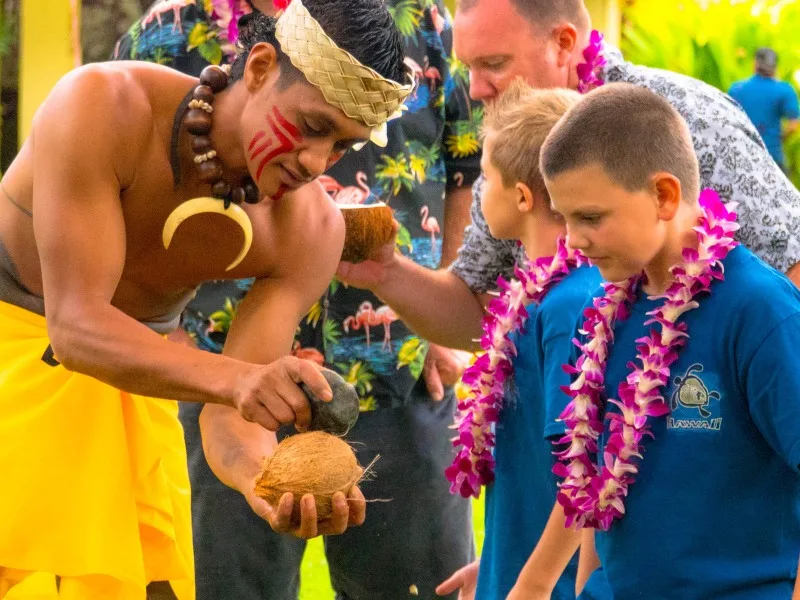 Even if you have been to other Hawaiian luaus in the past, book the Toa Luau for a memorable and authentic luau experience like no other. This intimate luau is nestled within the lush beauty of the Waimea Valley, and with admission to the botanical gardens included, you can arrive early to explore the grounds and the 45-foot cascading Waimea Falls. Begin your luau with a fresh flower lei greeting before having ample time to try a wide variety of Hawaiian and Polynesian cultural activities. Soon, it will be time for dinner, where you will be treated to a buffet featuring traditional island favorites, and then, it is show time! Watch as the talented performers take you on a journey to Hawaii, Tonga, New Zealand, Tahiti, and then to Samoa for their iconic and thrilling fire knife dance!
---
Why do travelers choose this tour?
Toa Luau is a must-do while on Oahu for anyone looking for a more intimate and unique luau experience. It is like no other luau in Hawaii, and considering it is smaller compared to other luaus and is hosted by a local Samoan family, it will feel like you have been invited to someone's home, and welcomed as a part of the 'ohana (family).
Guests can choose from either a 1:00PM or a 5:00PM start time which offers much more flexibility compared to other Hawaii luaus. The 1:00PM luau is a great option for families with younger children since it ends at 4:00PM, and also for those utilizing public transportation or taxis/ride shares since transportation can become limited at night on Oahu's North Shore.
There are a variety of cultural activities that can only be found at Toa Luau. This includes a kava ceremony which has been practiced for centuries throughout Polynesia and pays homage to Hawaiian deities, as well as a way to bring the community together.
This luau is also a fantastic way to save during your Hawaiian holiday since it is not only the most budget-friendly luau on Oahu, but also includes same day admission into Waimea Valley, a $20.00 value! As you explore the grounds of the botanical gardens, keep in mind that this is also the luau venue, and you will be able to enjoy the evening's activities surrounded by stunning views of lush tropical flora and a small flowing stream.
What is the difference between the packages?
Toa Luau offers three different luau packages, and they all include admission to Waimea Valley, flower lei greeting, cultural activities and demonstrations, a dinner buffet, and an evening luau show.
Standard Silver Package: Includes standard seating, and one drink ticket.
Premium Gold Package: Includes gold seating, and two drink tickets.
Deluxe VIP Package: Includes VIP front stage seating, and three drink tickets.
Local expert tips
This activity is incredibly popular and is normally sold out two to three months in advance. We highly suggest booking as soon as possible so you do not miss out on this opportunity.
Children four years old and under are free, and this makes for a very family-friendly activity.
If you are planning to use the complimentary same day Waimea Falls admission ticket, be sure to plan ahead since the botanical garden and waterfalls are closed on Mondays, and open Tuesdays to Sundays from 9:00 AM to 4:00 PM.
Allow yourself at least two to three hours before the luau if you would like to walk to the waterfall and explore the gardens. Changing and restrooms are also available in the gardens, and swimming in the waterfall is a great way to rinse off after the beach for anyone planning to spend the day on the North Shore.
The gardens showcase over 5,000 species of tropical flowering plants and ancient archaeological sites, and the Waimea Falls trail is a 1.5-mile round-trip walk on a paved path that is both stroller and wheelchair friendly. A round-trip golf cart shuttle to the waterfall is also available for a nominal fee at the valley entrance
Recommend attire: Resort casual or Aloha wear, with a light jacket or sweater. Flat shoes are a better option than high heeled shoes since some parts of the grounds are uneven with grass.
Pre-show activities
Before the luau show and dinner, guests are invited to participate in a variety of different activities, and it is highly recommended that you try a few once you check-in.
Nature walk through the Waimea Falls Park & Botanical Gardens
See how a pig is cooked in an umu, a Samoan above-ground oven, which is different from an imu, or Hawaiian underground oven
Participate in a kava ceremony
Traditional cooking demonstrations
Tree climbing
Polynesian games
Coconut leaf weaving
How to get there?
Toa Luau is located at Waimea Valley on Oahu's North Shore, and is approximately 40 miles from Waikiki. Travel time is typically one hour depending on traffic, and if you are driving from the Honolulu and Waikiki area, leave earlier than what is recommended by GPS apps as traffic going northbound can be very congested during rush hour. Complimentary parking is available.