This site contains links to a ShareASale affiliate website, and we receive an affiliate commission for any purchases made by you from those links to their website. This helps us to have a second cup of Kona Coffee (so Ono) in the morning. Mahalo Nui Loa
To learn more or to book now, left click on the image below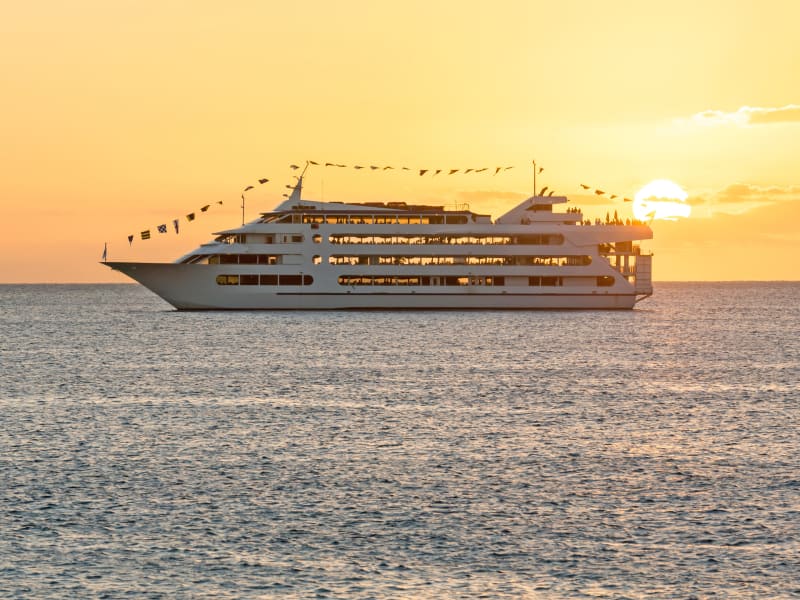 The most popular sunset dinner cruise on Oahu, the Star of Honolulu is an amazing way to celebrate any occasion in Hawaii. From start to finish, the crew, captain, entertainers, chefs and servers of this award-winning sunset cruise from Waikiki work together to deliver a magical and memorable experience. Different dinner options make the cruise perfectly suited for families and couples alike, while a variety of add-ons give you the chance to personalize your evening at sea.
Visit the 60′ high observation deck to take postcard-worthy pictures of the coast and have fun with a Hawaiian hula show before returning to the pier. Nothing can compare to an evening aboard the Star of Honolulu, one of Oahu's top attractions. Cruise times are extended every Friday night so you can enjoy the brilliant Waikiki fireworks display.
---
Make your experience unforgettable by selecting an enhancement upon check-out!
Celebration Plan: Private window table, memory photo per couple; minimum of 2 persons.
Reception Plan: Private window table, memory photo per person, 6″ Lei cake, bottle of "champagne" per couple; minimum of 2 persons.
Celebration lei cakes to wedding cakes
Champagnes, sparkling and fine wines
Memory photo in 9″x9″ custom Star of Honolulu logo album
Choose your dinner option!
| | |
| --- | --- |
| Five Star Dinner – Luxury 7-Course PackageLuxury & Romance for special celebrations! | 7-Course Signature Dinner with Maine Lobster & Prime Tenderloin of BeefHawaiian Bellini Welcome Cocktail & 3 Premium BeveragesCaptain's Welcome ReceptionLive Jazz entertainmentNew "Bon Voyage Hula" ShowPrivate Table – Exclusive Super Nova Room on the Top DeckDress Code: Formal |
| Three Star Dinner – Deluxe 5-Course PackageThe deluxe way to cruise in style! | 5-Course Dinner with Whole Maine Lobster & Prime Tenderloin of Beef Gourmet DinnerWelcome Champagne Toast & 2 Premium BeveragesLive Hawaiian Music, Live Jazz & "60 Years of Aloha" Hula showDress Code: Aloha Casual |
| Star Dinner – Casual 3-Course PackageCasual elegance delivered with Aloha! | 3-Course Dinner with Canadian Snow Crab Legs, Tenderloin of Beef & BBQ Chicken1 Welcome Mai TaiLive Hawaiian musicFeature "60 Years of Aloha" showDress Code: Aloha Casual |
| Pacific Star – Buffet PackageFun tropical evening! | Pacific Rim Buffet Dinner with Roast Beef Carving StationOne Signature Mai Tai CocktailPolynesian Show |
---
Drinks:
Mai Tai, Blue Hawaii, Chichi, Lava Flow, Other tropical drinks, Beer, Wine, Scotch, Bourbon, Vodka, Rum, Brandy, Juice, etc.
*Please note that the 3-Star package includes 2 Super Premium and the 5- Star includes 3 Super Premium beverages of your choice. The Pacific Star and 1-Star packages include a Star Signature Mai Tai only. Any drinks ordered will be paid after the beverage allotment has been used.
---
Boat Information:
Name:
Star of Honolulu
Size:
Length: 232 feet | Width: 45 feet
Four (4) Spacious Deck Tour Vessel
Capacity:
1,500 Passengers
Safety:
Lifeguard-certified crew members always on board
Accessibility:
Hawaii's only A.D.A. compliant ship with two (2) elevators
Amenities:
Smoothest ride with three (3) types of stabilizers (deep vee hull, anti-roll chocks, watts-type).Most spacious and best views – only ship with 60′ high observation deck and four (4) walk-around decks and six (6) beautifully decorated dining rooms, ballrooms, lounges perfect for private dining functions.Best facilities including sound systems, bars and restrooms on all decks.Onboard culinary facilities for the best dining experience at sea.