This site contains links to a ShareASale affiliate website, and we receive an affiliate commission for any purchases made by you from those links to their website. This helps us to have a second cup of Kona Coffee (so Ono) in the morning. Mahalo Nui Loa
To learn more or to book now, left click on the image below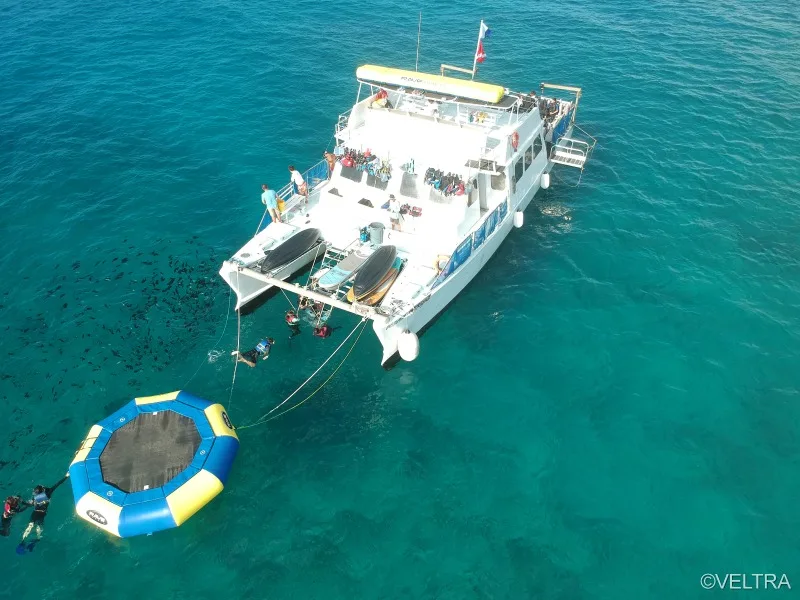 Whether you go in the morning or in the afternoon, a day of aquatic adventures is waiting for you. Make your way off the Waikiki coastline on a comfortable ocean yacht, before splashing in the water to enjoy a number of different activities. There will be kayaking and stand-up paddling, as well as a trampoline to jump on, and a water slide to zoom into the water. All of your snorkeling equipment will also be provided so you can swim and snorkel in Hawaii's underwater paradise, all while enjoying the amazing views of Diamond Head.
---
Boat Information:
Name:
Ocean Intrigue
Size:
Double-deck 60ft. Catamaran
Capacity:
140 Passengers
Safety:
Lifeguard-certified crew members always on board
Accessibility:
This vessel is wheelchair accessible.
Amenities:
The "Ocean Intrigue" is a 60ft catamaran and U.S.C.G Certified for 140 passengers. This spacious catamaran is one of Oahu's largest panoramic multi-level deck vessels and it provides a stable comfortable ride. The boat is equipped with a restroom and covered seating areas.